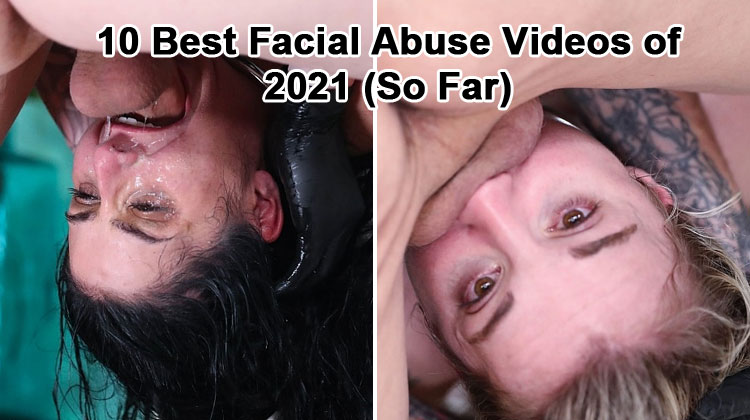 Here are the top 10 videos for the year so far from our favorite extreme deep-throat porn site.
You will find a lot of aggressive skull fucking, intense balls deep gagging, and of course, a very eclectic mix of fluids!
My deepest wish is that you enjoy these scenes and so please can you let me know what your favorites for this year are in the comments?
I will see you again for the final list at the end of the year. Now you should relax and watch these ten handpicked movies 🙂
---
10. Ruined Rectum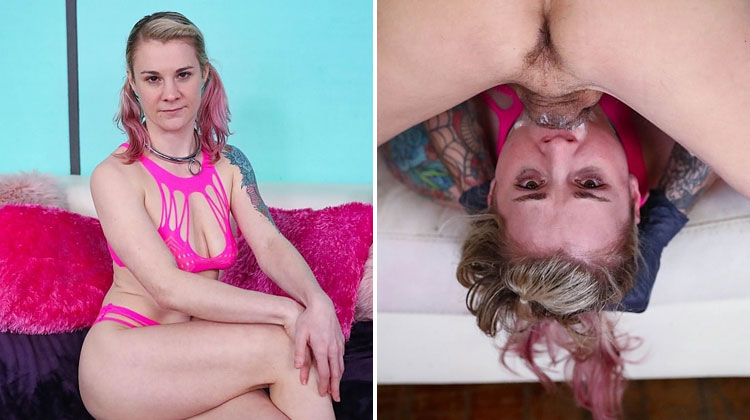 Click to download the full uncut video
Let's get this gagging action started at number 10!
This blonde was popular with fans because of the eye-popping deep-throat action. She dutifully takes those big erections all the way to the balls with seemingly no sweat.
The scene is spiced up with plenty of puke, and don't forget that yellow discipline, i.e., she gets urinated on!
Kim's Rating: 7.8
---
9. Painful Big Dick
Click to download the full uncut video
From her initial picture, she looks like butter wouldn't melt in her mouth!
She is far from innocent, though. Her apparent experience shows when she takes the angry big dicks into the back of her gullet.
She looks like a scared rabbit most of the time—plenty of puke and piss, a perfect entry for 2021.
Kim's Rating: 8.0
---
8. Pusti
Click to download the full uncut video
I love this scene.
Seeing the big naive smile turned into a look of sheer horror always turns me on! Ball's deep face fucking is fun for some, but this slut looks like she is having a hard time.
Fans really appreciate the girls who struggle their way through, and that is the case here. She is hanging on for dear life until her miserable multiple cum facial.
Kim's Rating: 8.2
---
7. Double Dicked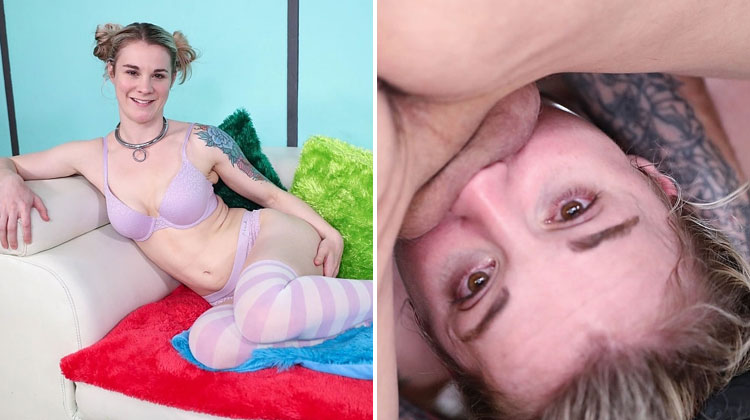 Click to download the full uncut video
This slut returns for even more extreme porn nastiness.
She is so obedient and so submissive. The crew at Facial Abuse takes full advantage of her throat, ass, and pussy in this incredible update.
Her gullet takes the 9 inches down to the balls, no problem. What an outstanding performance, bravo! Go for it, watch the video and then nut on her face!
Kim's Rating: 8.4
---
6. Damsel In Distress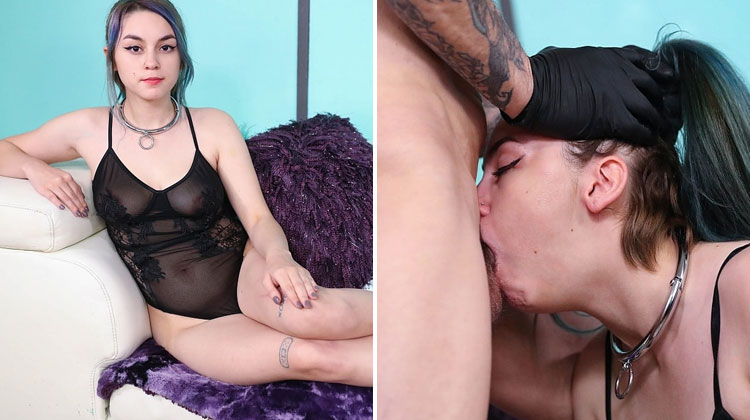 Click to download the full uncut video
Her first appearance; see her second appearance is at position 9.
She showed a lot of promise in this scene. Cold and miserable, she looked like she was here for punishment.
Soon the big meaty dicks were forced down the back of her throat, and the depravity ensued. Look at that sad face as she takes multiple loads of creamy love piss.
Kim's Rating: 8.6
---
5. The Good The Bad The Epic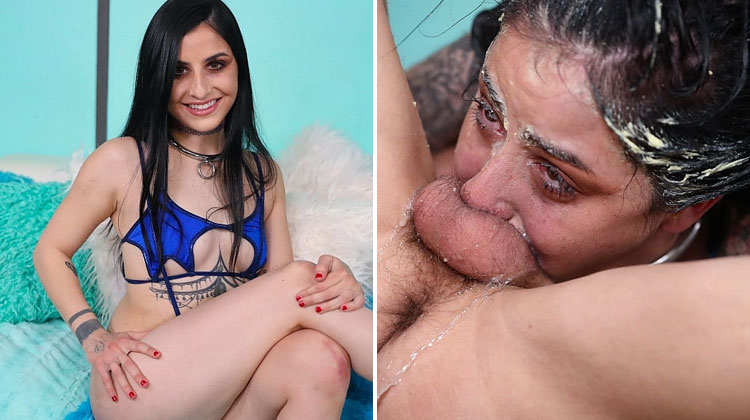 Click to download the full uncut video
This was her second update from back in February.
She returned in April for Pusti, which came in at number 8. What can I say about this one? Everybody loves a fresh face, and everyone loves a face getting destroyed.
All the key elements are there. Head stomping, violent deep-throat, and of course, plenty of fluids. A well-deserved number 5 here.
Kim's Rating: 8.6
---
4. Pip-Squeak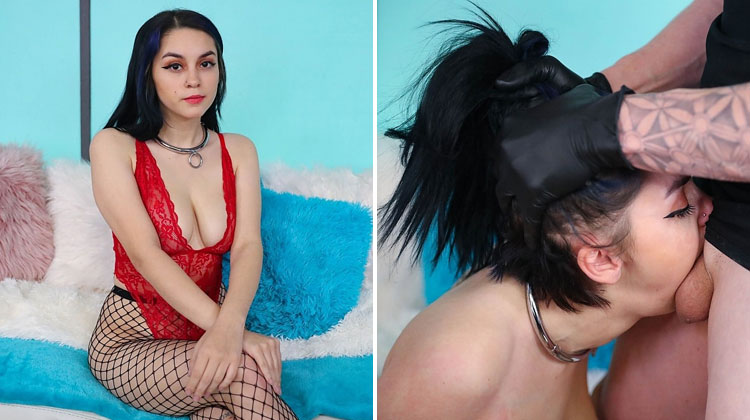 Click to download the full uncut video
So, in actual fact, this was her first update, not position 6.
The tiny little slut graced our screens in February, and the angry deep-throat fucking was epic. Her cute little face gets covered in her green puke. It is absolutely insane.
She looks all shaken up and terrified by the end of the scene. It certainly didn't stop her coming back for two more episodes!
Kim's Rating: 8.6
---
3. 6 Holes 4 Tits 2 Hoes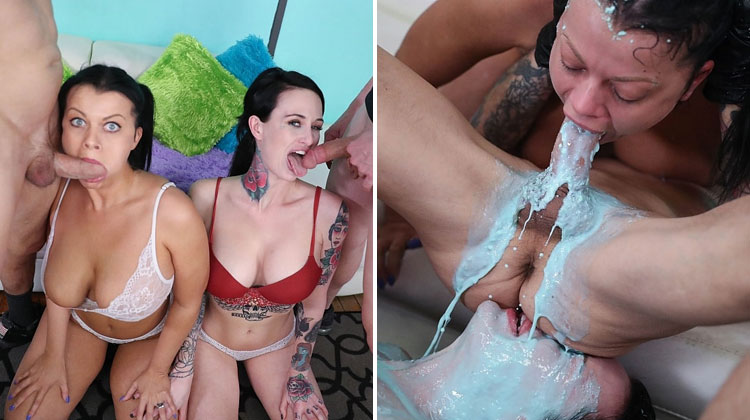 Click to download the full uncut video
Debauchery at its very best.
Two big tit sluts offer up their six fucks holes. Intensive face fuck puke, anal sex, and a multiple cum shot to their faces make this a fan favorite.
FA is always trying to push the envelope with its content, making for an intriguing watch. Lots of fluids and depraved acts, what more could you want?
Kim's Rating: 8.8
---
2. Phase Shift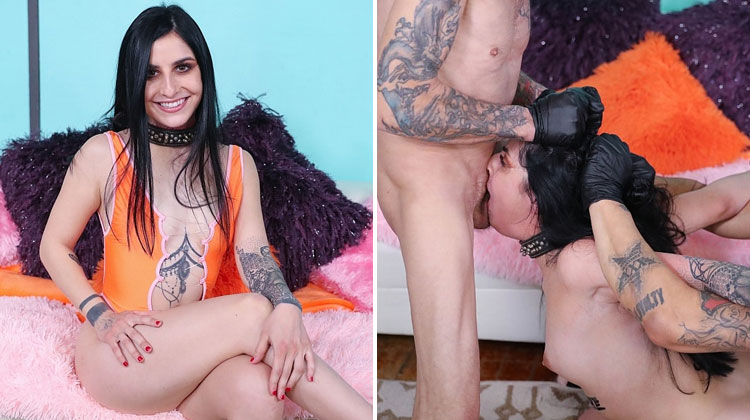 Click to download the full uncut video
This was her first scene with Facial Abuse, and I have to say this could have quite easily been in the number 1 slot.
If you have been attentive, you'll have seen her second and third scenes at positions five and eight, respectively.
This epic scene is really aggressive balls deep skull fucking, ending in a very messy four-load cum facial. Arguably the best update of the year.
Kim's Rating: 9.0
---
1. Slapped Happy
Click to download the full uncut video
As I write this in July, this is the most recent update on FA.
I think it is the best scene of the year so far. It has it all when it comes to aggressive face fucks and puke-filled bowls.
She gets her holes absolutely destroyed. Humiliated, degraded, and pissed on, it one hell of a scene.
Kim's Rating: 9.2
Would you please enjoy all the videos and let me know in the comments what your favorite scene of 2021 is so far?
---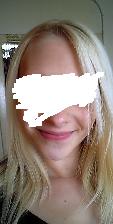 Thank you for checking out my top 10 list.
Remember, you can follow me on Twitter here:
You can also check out tons of the latest facial abuse updates here. Which I update for you every week.
Please can you let me know what your favorite FA videos for 2021 were in the comments section below? 🙂
X Kim