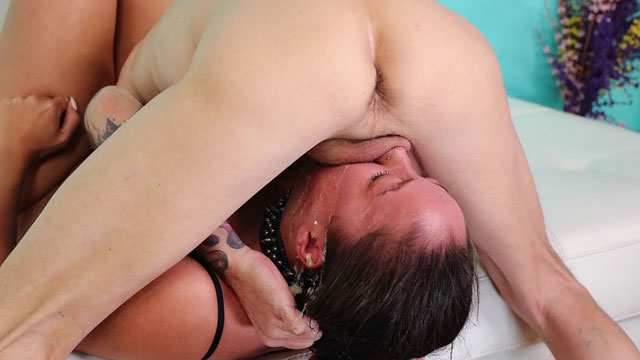 Click Here To Get The Full Uncut Video!
Yellow D in the Butt!
Just another day in the office for the guys at Facial Abuse! You may remember this amateur brunette whore from the previous update called "DP'd, Disciplined, Face Fucked, Sodomized".
Well she is eager to take things to the next level and that means taking urine in her ass. Yeah what a way to start the scene; this slut will do anything as long as she loses all self-respect in the process!
After the kinky introduction it's time for a throat war. Two meaty big dicks pummel down the back of her throat with great vengeance and furious anger.
Her throat is just a hole to be penetrated. Hats off to this slut because she has no problem in taking their think long cocks down to the balls.
Things do get messy though. Slop starts to fly as they notch right into the back of her esophagus. Her ass is then slammed; double penetration follows along with a deepthroat headlock courtesy of Bootleg.
Her reward is a double cum shot to the face and then the bowl of slop is poured over her head.
You can enjoy both her scenes including this one with 726 photos and a 53 minute video. Check out the one and only FacialAbuse.com.